"Skin Tight" Cellulite Scrub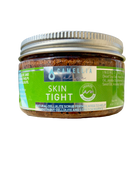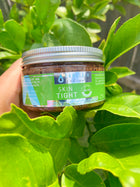 Description
"Skin Tight" scrub combines caffeine and antioxidants to tighten and energize skin while also promoting circulation. This gives it the ability to smooth out skin and reduce cellulite. Skin tight is formulated to help smooth out cellulite and stretch marks. When applied to the surface of your skin it helps redistribute fat cells and decreases the formation of cellulite.
Directions: Apply to target areas and rub in circular motions. Rinse with warm water. Follow the regimen with a moisturizer. (Can also be applied and worn for 1 hour with plastic wrap in cellulite prone areas) 

 Benefits of "Skin Tight" Coffee Scrub:

Exfoliation

Because coffee scrubs are made with coarse grounds and salt or sugar, they act as exfoliates for the skin. Regular exfoliation of the skin removes residual dirt and dead skin to give you younger looking, fresh skin. After the skin is exfoliated, it is able to absorb moisture more effectively as well. All beauty regimens should include exfoliation treatments, and the coffee scrub provides it.

Blood Flow

Some people use coffee body scrubs to combat the occurrence of varicose veins. The caffeine found in coffee scrubs typically increases blood flow and may reduce the appearance of cellulite. Even the action of applying the coffee scrub can help with these types of skin issues because squeezing and massaging the body helps to release toxins and fats held in the skin.