Lemonbottle Messotherapy Serum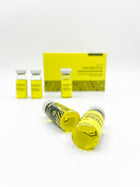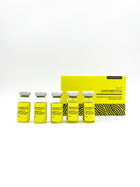 Description
Premium LEMONBOTTLE solution combines Riboflavin (vitamin B2) and other high quality ingredients for fat decomposition to increase metabolism of fat cells and accelerate disposition.
Key ingredients include:
Riboflavin

 

(Vitamin B2) – Vitamin B2 includes activation of fat metabolism
Lecithin

 

destroys and transports unnecessary fat cells
Bromelain

 

(Ananas Sativus (Pineapple)) helps to break down fat and remove inflammation
Key Benefits:
Fat Dissolving: LEMONBOTTLE effectively breaks down fat cells and enhances metabolism.
Tightening Effects: Experience improved skin firmness and reduced cellulite.
Unique Ingredient Blend: Formula includes Riboflavin (Vitamin B2) for enhanced fat cell response.
Collagen Support: Centella Asiatica extract stimulates collagen synthesis for a youthful appearance.
Personalized Treatment: Target adipose tissue, localized fat, cellulite, and more.
Up to 6 single treatments can be treated at the interval of about 1 week.
5 x 10ml ampoules
Item ships out within 2 business days of order being placed.
Amazing love the products
Amazing love the products